As easy as Google Translate? Stepes launches live human translation platform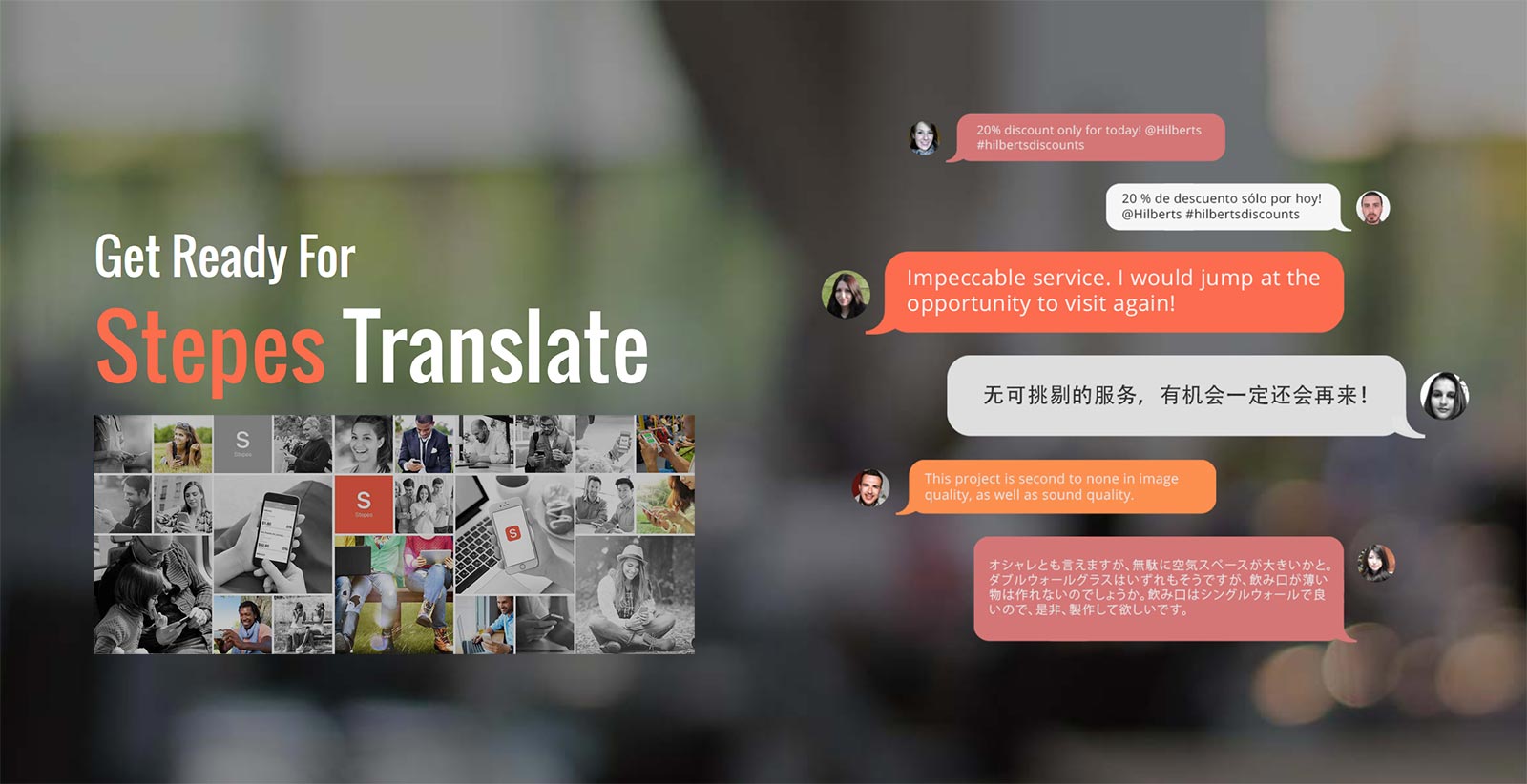 Carl Yao has long wished that he could use Google Translate for his business translation needs. A longtime entrepreneur in the language and software sphere, Yao specializes in supporting globalizing companies that need localization and translation of their products and services.
"The amount of business content that needs to be translated is staggering. I wanted to streamline the translation process for translators, clients, and myself," said Yao.
He finally decided to create the tool he had been dreaming of for years himself. The result is Stepes Translate, a beta version of which Yao just launched. Stepes Translate is an on-demand web translation platform. Users simply type the text they want translated into a familiar side-by-side machine translation platform reminiscent of Google Translate. Stepes Translate then automatically identifies an appropriate translator from its global network of in-country translators, who then can immediately begin translating through the Stepes platform from their smartphone. The translated text appears within minutes in the output field on the user's desktop or mobile screen.
The translation platform targets businesses of all sizes which need immediate but highly accurate translation of short chunks of content – say, brief user directions for a product or a Tweet.
Yao says that the Stepes translator network has already grown to more than 60,000 translators but hopes that the ease of using Stepes' translation platform will attract more bilingual talent to begin translating.
Growth in Digital Content
With more and more companies launching cross border services, products, and marketing campaigns, the need for quality translation has jumped. The global translation industry is already $40 billion and is expected to grow double digits; the U.S. Bureau of Labor Statistics also predicts a 46 percent increase in translation job opportunities between 2012 and 2022
Yet those projections don't take into account the nascent demand for the explosion of digital content, Yao adds. Digital content – social media posts, online blogs and articles, and user-generated content, including user reviews and comments.
"More companies are using Twitter, Facebook, and user reviews as integral components of their marketing and public relations initiatives," says Yao. "They're starting to realize the persuasive power of digital content and want to spread their message globally."
But the rise of digital content and user-generated content as social media has taken off has also posed a significant challenge for translation companies. Digital content requires translation turnaround times measured in hours rather than days, with the content itself being highly fragmented but generated in large volumes. Moreover, clients aren't willing to pay very much for translating digital content.
So why don't businesses just plug Tweets into Google Translate? Despite the tremendous growth and popularity of machine translation (MT) platforms such as Google Translate, they still lag far behind human translation in quality, and most businesses opt for human translation to ensure accuracy for their business content.
Yao says he has noticed more companies asking about translation of social media and user-generated content but could offer no real solution at the price point and speed required until he launched Stepes Translate.
Moving to a mobile ecosystem
Stepes Translate is part of the Stepes mobile translation platform, launched in January 2016. The platform hinges on the mobile translation – allowing translators to translate directly from mobile. Stepes created an app which functions as a sophisticated professional translation tool, replete with machine translation, machine memory, terminology management, and voice translation capabilities. The app is available for iPhone and Android phones. Its goal is to tap into the translation abilities of the world's three plus billion bilingual people. Currently, there are only about 250,000 professional translators globally.
Traditional translation software is overly technical and thus not easily accessible to many translators, explained Yao: "Stepes' mobile technology wants to make translation tools intuitive and free, driving instant human translation services to global clients around the clock."
Stepes Translate is powered by translators using the Stepes app on their smartphones, translating wherever most convenient from them. Ultimately, Yao hopes that Stepes Translate can offer businesses a faster and more accessible channel for human translation while giving translators all over the world more opportunities for flexible work opportunities.