Translating your Tweets to reach customers globally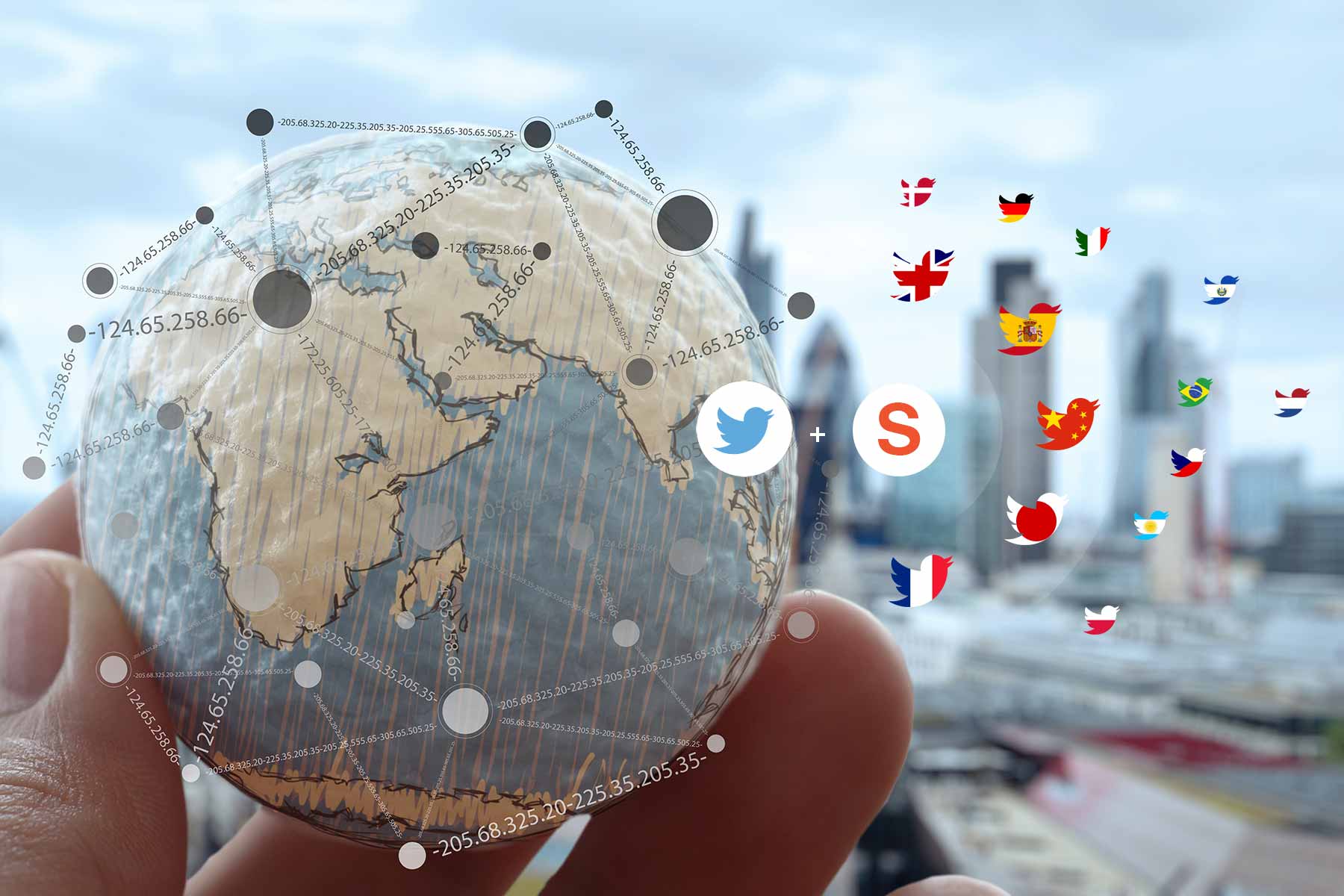 Companies each approach social media marketing differently, but one thing they all agree on is the significant benefits of being active on Twitter. Businesses use Twitter to reach their customers and engage with their followers by sharing valuable information about their products and service offerings. The millennial generation has further accelerated this development as Twitter and other online social media channels have become key influencers of their purchasing behavior.
A recent Kissmetrics.com article talks about industry findings that illustrate the power of Twitter and why businesses must have a sound Twitter strategy to achieve the best business outcome:
Over half of online users say that they are more likely to buy from a brand after seeing the brand on Twitter.
The placement of social media buttons on product pages positively affect buying decisions.
Frequent posting on Twitter helps to drive traffic to a company website and contributes to increased sales.
60% of people say they are more likely to recommend the company after following them on Twitter.
Twitter shoppers spent more money than Google shoppers during holiday shopping seasons.
Twitter is increasingly beneficial to companies who are active on social media. But while most businesses understand the importance of being active on Twitter, an overwhelming majority fail to realize the importance of translating their Tweets into other languages to reach customers globally.
Like all other social media channels, content posted on Twitter in one language tends to stay in that language regardless how many times it may be viewed, retweeted, or shared. This means a product announcement in French will only be visible to French speakers, and anyone outside of the French-speaking world never has the opportunity to see the news.  Not translating your Tweets into all of the languages you company does business in will result in lost sales opportunities overseas.
There are many successful companies that do an exceptional job of promoting their business through Twitter. As Marshable reported some time ago, companies like Ford, General Motors, JetBlue, and Marriot International all have done a great job of using Twitter to help grow their businesses. Nevertheless, despite their media success in domestic markets, many of the same companies fail to recognize the significant benefits their Tweets would generate overseas. In fact, for most companies, Twitter translation is often the last thing they would think of. This is due, in part, to Twitter's globalization maturity being so new. Additionally, effective translation solutions that make translating Tweets on a continuous basis easy, fast, and affordable are not readily available.
Machine translation (MT) is currently the only option for around the clock translation services. In fact, Twitter itself announced the incorporation of Bing Translator (a competitor of google Translate) into its micro-blogging platform in 2015. Bing Translator can only go so far, however; although MT works for personal or internal use to obtain a quick understanding of simple text, it should never be used to translate business Tweets. The relatively poor quality of translation would eventually tarnish a brand, damaging brand loyalty internationally. That is why platforms like Stepes – which provide real-time and affordable quality human translation solutions—are sorely needed to bridge the gap.
Stepes Twitter translation API allows businesses to provide their Twitter account (and any accounts in other languages) and Stepes will do the rest, providing just-in-time translation each time a Tweet is posted from the English account. The entire process is automated and provides continuous, around-the-clock translation solutions for businesses that sign up for such services.
So how does translating Tweets help you achieve global success? Below are a few of the major reasons globalizing your social media outreach brings big dividends to your business.
Connecting with International Customers
Twitter is used daily by many people to find news and popular topics among friends and the Twitter community. Smart companies realized early on its potential to connect with customers by sharing popular product/service discussions and new technology innovations among followers. Many companies also use Twitter to provide customer support and promote their brand to potential customers. By translating Tweets, it broadens a company's ability to connect with global customers.
Global Social Marketing and Branding
Marketing and branding on Twitter are not just reserved for big companies like GE, Nike, or Starbucks. Companies of all sizes can use Twitter to market their products and services to build brand loyalty and influence people's purchasing decisions. By consistently broadcasting business-related messages over Twitter, companies are able to create stronger brand recognition, leading to improved customer trust and sales. If these branding and marketing messages are only shared in one language, companies forego reaping the same benefits in international markets.
Worldwide News Distribution
Twitter has become one of the most effective channels for disseminating news. This is why companies increasingly rely on Twitter to help spread news about corporate updates and new service offerings. Social media posts are considerably less official compared to press releases and they are less likely to be viewed as pure marketing propaganda. Localizing your tweets is critical in order to push your news and announcements to a global audience in real time.
Going Viral
Social media posts – especially Tweets – can become "viral," spreading of their own volition to help your business spread news quickly and on a large scale. In fact, many companies Tweet in the hope that some of their promotional tweets will go viral. By translating Tweets, you will be able to multiply your chances to reap the reward of viral marketing globally, increasing global traffic to your website.
Increased International Sales
The ultimate goal of using Twitter is to increase sales and profits. According to a Marshable report, Dell was able to generate some $6.5 billion in revenue thanks to their presence on Twitter in English only. Many of the world's largest companies derive more revenue internationally than within their domestic market alone. Ultimately, what that means is it pays to translate.
There are a number of ways to translate your Tweets. Although some companies choose to Tweet in different languages by staffing a marketing person for each major language market to Tweet independently. But this is a costly solution which can lead to inconsistent brand messaging. Hiring an outside translation service is a good option, however, localization service providers (LSPs) using traditional translation models often act too slowly to meet the speed requirements of the social media world which require fast turnaround times.
Continuous translation platforms like Stepes are ideally positioned to translate social media content because they are able to provide near simultaneous human translation service around the clock. Stepes mobile based platform is ideal for quick turnaround time. It automatically retrieves the text you have Tweeted and immediately sends the text to its large network of human translators, allowing them to translate anywhere and anytime from their smartphone.
The small expense you pay to translate your Tweets can yield generous returns on investment. According to CSA, a translation industry analyst organization, for every dollar a company spends on translation, they usually receive ten dollar back in global sales.